Supervisor Curt Hagman Concludes his Board Presidency
July 13, 2022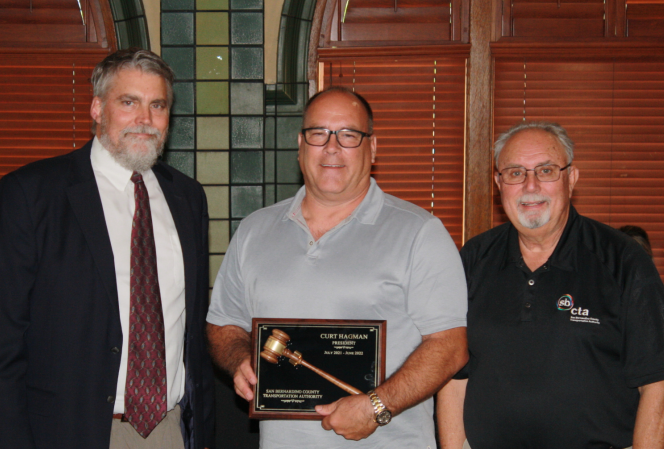 The July Board of Directors meeting annually brings new leadership to SBCTA/SBCOG. This month's meeting saw Apple Valley Mayor Pro Tem Art Bishop assume the position of Board President and County Supervisor Dawn Rowe take the position of Vice-President.
The meeting was also an occasion to honor out-going Board President, County Supervisor Curt Hagman. Supervisor Hagman began his Board Presidency while the state and nation was still in the midst of the COVID-19 pandemic and social distancing protocols were in place. Board President Hagman helped guide policies that enabled SBCTA/SBCOG staff to return to work at the historic Santa Fe Depot and Board and Committees to return to in-person meetings.
Despite the challenges of the pandemic, Supervisor Hagman led an agency with a budget of more than $1 billion and advanced several innovative projects that will be transformative to the future of transportation in the county. The 2021-2022 fiscal year saw the completion of the infrastructure for the Redlands Passenger Rail Project, delivery and testing of the new Diesel Multiple Unit vehicles that will operate on the Arrow Rail Service line, as well as moving forward with the sub-surface connection from the Rancho Cucamonga Metrolink Station to Ontario International Airport with the Tunnel to ONT project.
This past June, the Supervisor was overwhelmingly re-elected to a third term to the County Board of Supervisors, so will continue to serve on the SBCTA/SBCOG Board of Directors, as well as serving as Immediate Past President on several SBCTA Committees. We congratulate Supervisor Hagman on his successful term as SBCTA/SBCOG Board President and thank him for his dedicated service.