Testing Trains and Tracks in the East Valley – See Tracks, Think Trains
July 12, 2021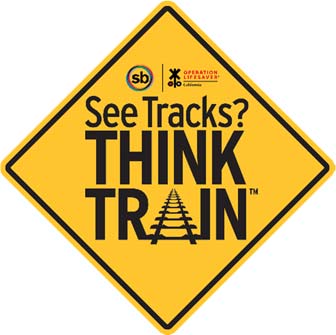 SBCTA, in collaboration with Metrolink, will begin testing Arrow this summer. Arrow is the new rail service that will connect the San Bernardino Transit Center to the University of Redlands. Train testing will occur throughout the 9-mile corridor and will continue until Arrow service begins in 2022. Testing will occur weekdays and weekends during daytime hours at all intersections/crossings in the cities of San Bernardino and Redlands. Safety personnel will assist with motorists at the intersections/crossings being tested. Sidewalks will remain open and accessible; however, pedestrians will be stopped when trains are approaching.
Initial testing will see the use of Metrolink locomotive hauled coaches, representative of the commuter rail service that will run once in the morning and return in the evening when formal service begins. Using existing trains on the track infrastructure will allow the analysis to focus on the new track and crossing communications. Phase II of testing will see the new Arrow vehicle perform its testing on the tested track. All of this is done in an effort to maximize safety for the traveling public, pedestrians, and neighboring businesses and residents.
Testing will occur at all intersections and crossing throughout the 9-mile Arrow corridor including:
City of San Bernardino: E Street, D Street, S. Arrowhead Ave., Sierra Way, Mill Street, Central Avenue, W. Orange Show Rd., Waterman Avenue, Tippecanoe Avenue, Richardson Street, Mountain View Avenue
City of Redlands: California Street, Nevada Street, Alabama Street, Colton Avenue, Tennessee Street, New York Street, Texas Street, Eureka Street, Orange Street, 6th Street, 7th Street, 9th Street, Church Street, University Street
To learn more about train testing dates and times, sign up at goSBCTA.com/Arrow. Remember if you See Tracks, Think Train.