Measure Impact: The Barton Road Interchange Project
January 19, 2022

The Barton Road Interchange Project is one for the books – an engineering masterpiece that, since its completion last year, has significantly improved circulation along one of the busier stretches of the 215 Freeway, reduced congestion on local roads, and created an efficient, safe means for motorists entering or exiting the freeway at Grand Terrace.
The project is also a shining example of your Measure I dollars improving the lives of residents in one of the fastest-growing population and economic centers in California.
First, some background, Measure I is the voter-approved half-cent sales tax collected throughout San Bernardino County for transportation improvements. The Measure was first approved by voters in 1989 and again in 2004, with all revenues administered by SBCTA.
The Barton Road Interchange Project received $60 million in Measure I funds – 58% of the project's overall $105 million cost.
The complex project featured a variety of improvements, including lengthening and increasing the height of the bridge over the 215, widening a portion of Barton Road, and adding a roundabout west of the bridge to facilitate traffic onto and off of the freeway.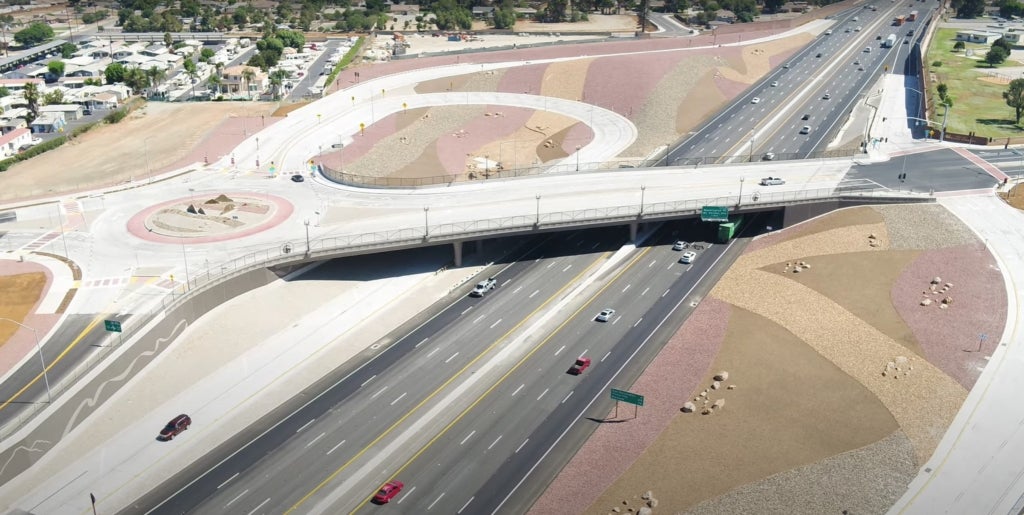 As a result, the highly anticipated project not only meets today's needs but tomorrow's as well.
"The new Barton Road Interchange has been transformational, for the residents and businesses in our community as well as the region as a whole," said Darcy McNaboe, Mayor of the City of Grand Terrance and a Past President of SBCTA. "The improvement we have seen to traffic flow, safety, and quality of life has been nothing short of amazing."
Caltrans awarded the project one of its coveted Excellence in Transportation Award winners for 2021.
"The I-215/Barton Road Interchange Improvement project included local circulation system improvements such as new roadway connections, realigned facilities, and new signals," Caltrans wrote. "This resulted in improved safety and traffic operations and reduction in traffic conflicts. The project also improved pedestrian, bicycle, and vehicular access to facilities served by the interchange and provided a context-sensitive design."
To learn more about Measure I click here.