The Journey toward Self-Powered, Zero-Emission, Compliant Trains
August 7, 2023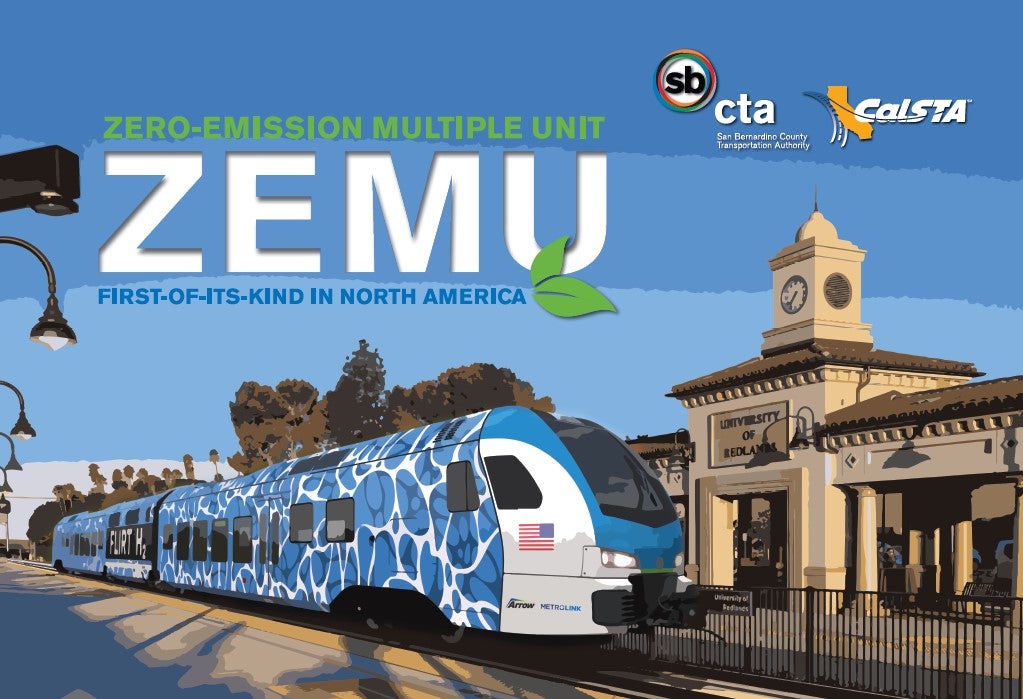 Traveling more than 5,000 miles across the Atlantic, North America's first-ever compliant zero-emission, hydrogen-powered passenger train is en route to the United States, making a handful of pit stops before heading home to the tracks in San Bernardino County.
Known as ZEMU, or Zero Emission Multiple Unit, this landmark moment marks a giant leap forward in SBCTA's efforts to reduce carbon emissions, combat climate change, and build a more sustainable and eco-friendly rail future.
ZEMU's journey to the United States dates as far back as the late 1800s when the Santa Fe Railroad arrived in the area and San Bernardino became Santa Fe's "gateway" to Southern California. For more than a century, the railroad industry has been a major contributor to the San Bernardino economy. For decades, trains have been a vital mode of transportation, connecting communities, fostering economic growth, and offering a more eco-conscious alternative to air and road travel. However, traditional diesel locomotives have long been associated with significant greenhouse gas emissions, contributing to the global climate crisis. In response, the rail industry worldwide has been diligently working to develop cleaner, greener alternatives.
Stemming from a partnership that includes agencies such as CalSTA and Caltrans, and thanks to SBCTA's innovative forward thinking, the ZEMU train was manufactured by Stadler in Switzerland, but this is just the beginning. The wheels of progress are already turning and once the train hits U.S. soil, it will be transported and assembled at the FRA's Transportation Technology Center in Colorado and then commissioned before traveling across the country passing through many of America's great landscapes until it reaches Orlando, Florida to be revealed at the 2023 APTA Transform Conference & Expo. The APTA Expo is renowned for being the public transportation industry's long-standing resource for advancing mobility systems through a robust showcase of the latest-breaking technologies, products, and services.
The arrival of North America's first zero-emission, hydrogen-powered, compliant passenger train sets a powerful precedent for the rest of the world, showcasing SBCTA and Southern California's commitment to sustainability and adopting greener technologies.
Join us in celebrating this milestone that will help shape the future landscape of rail travel as we embark on a journey that is leading us toward a future where sustainability and innovation ride hand in hand.