Traffic Advisory: Daytime Full Closures, Pepper Avenue August 28 – 29, 2017
August 24, 2017
Construction is under way on the new State Route 210 interchange with Pepper Avenue in Rialto. The San Bernardino County Transportation Authority (SBCTA) is leading the construction effort, in cooperation with the California Department of Transportation and the City of Rialto.
The interchange will provide a connection between the recently extended Pepper Avenue and SR-210, offering a new option for commuting and moving goods through the region. Work will take approximately one year to complete, with the new facility expected to open in mid-2018.
For questions, please call 909-884-8276 or visit the website. Thank you for your patience and understanding.
Date/Time
Monday, August 28 and Tuesday, August 29
3:30 a.m. to 12 p.m. daily
(Dates and times are approximate)
Closure/Activity
Pepper Avenue from north of Terrace Road to Highland Avenue will be fully closed in both directions.
Access to the homes on the west side of Pepper Avenue north of Terrace Road will be maintained.
Detour
For Vehicles:
Use Baseline Rd., Riverside Ave. and Highland Ave. or
Use Baseline Rd., California St. and Highland Ave.
For Trucks (Big Rigs):
Use Baseline Rd., Ayala Dr., SR-210 and Highland Ave.
Additional intermittent closures may be required in the coming weeks; please register to receive project updates by using the contact information at the end of this notice.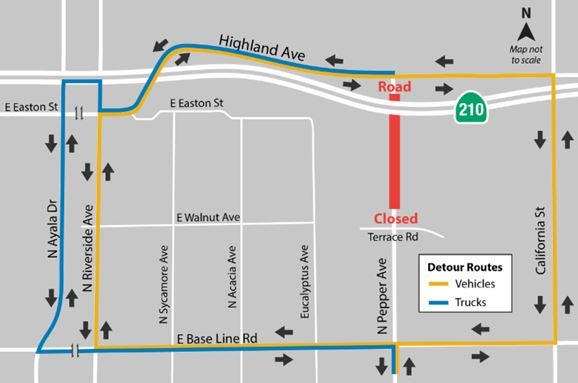 Note: Information contained in this notice is subject to change, based on weather, field conditions, or other operational factors.
Safety: Our Top Priority 
SBCTA reminds neighbors and commuters of the need to be safe near the SR-210 Pepper Avenue construction zone. Please remember to:
Slow down near the construction area
Allow extra time to get to work and school
Do not walk or ride in the construction site
Watch for workers and equipment
Note road closures and follow detours