Trolley Success Leads to Extension for Mountain Transit
September 22, 2017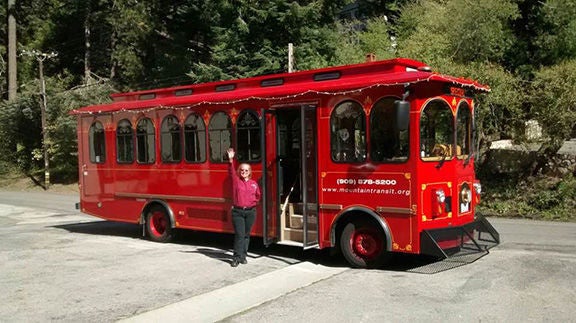 Mountain Transit is extending their Trolley Demonstration Service through Oct. 29, to accommodate Lake Arrowhead Village Oktoberfest crowds, said Community Outreach Coordinator for Mountain Transit Tiffany Millburn.
Since the beginning of the trolley service, Millburn explained, "Mountain Transit has been inundated with requests from many of our community partners to extend the Rim Weekend Trolley."
Key community members have shown their support for the trolley. Executive Director of the Lake Arrowhead Chamber of Commerce, Robin Bull, commented, "The trolley did amazing things for tourists; it really helped them explore all the mountain communities. It's been a highlight."
Crestline/Lake Gregory Chamber of Commerce Director Louis Boehle echoed Bull's thoughts, and said,"It's helped people to explore all the mountain communities, from SkyPark to Crestline and in between. It's really been helping build the sense of community as a whole." Not only that, but Boehle added, "The trolley has been vital to this year, especially with everything going on with the lake and the parking structure in Lake Arrowhead Village."
Marketing and Events Manager of the Lake Arrowhead Village, Vickie Goodglick, agreed that the trolley "helped to alleviate some of the parking issues we've had because our parking garage has been closed." She also mentioned that the trolley "adds one more unique element to our mountain, for guests as well as locals, to have a good time together." The extension is important, Goodglick said, because "there's still plenty to do and lots to see through October."
The trolley schedule will stay as is until Sept. 10. On Fridays and Saturdays, the trolley starts in Top Town at 3:15 p.m. and ends at 10:19 p.m. at the same location. On Sundays and holiday Mondays, it also starts in Top Town at 10:40 a.m. and goes to 5:30 p.m., ending in Top Town.
The new schedule, as reported by Millburn, will kick off on Saturday, Sept. 16, and run through Sunday Oct. 29. It will feature extended daytime hours on Saturdays and Sundays to accommodate Oktoberfest activities at Lake Arrowhead Village.
Millburn shared that the trolley route currently includes stops at SkyPark Santa's Village, Skyforest, Lake Arrowhead Village and Resort, Cedar Glen, the Tudor House, Twin Peaks, Blue Jay, Lake Gregory, Crestline and TopTown.
Mike Johnstone, the store manager at Goodwin and Son's Market in Crestline, said that the trolley has been a positive element for business. "I think that any time we're bringing people into the community is a good thing," and mentioned that the trolley, which runs from lake to lake, is a great way to bring the community together.
The Rim Weekend Trolley was originally run as a demonstration project from May 29 to Sept. 4, Labor Day, to test the waters within the community, Millburn further explained.
Sandy Benson, assistant general manager of Mountain Transit, credited John Connor from the Tudor House with "being the catalyst for making the 'talk about the trolley' a reality," and said that Connor was "determined and helpful at putting Mountain Transit staff together with other key community partners."
Connor said he knew that this was an important project for the mountain. "Big Bear Lake had two trolleys and we had none. We're a tourist kind of community, and the trolley has the right look to promote tourism." He continued, "That's what we needed, a trolley separate from the regular bus schedule."
Connor mentioned that his goals for the trolley succeeded this summer, and the proof of that is in the extension itself. "It proved its point."
Partners of the trolley, according to Benson, include Robin Bull, Louis Boehle, Vickie Goodglick and Lewis Murray from Representative Janice Rutherford's office.
Benson concluded, "It's a great example of how a community coming together can make positive things happen!"
The fare for the trolley is $5 for unlimited re-boarding all weekend. Tickets may be purchased from the conductor, Crestline Chamber of Commerce, Lake Arrowhead Chamber of Commerce, Pine Rose Cabins in Twin Peaks or the Lake Arrowhead Village executive offices.
For more information about the trolley, or for a schedule, visit mountaintransit.org or call (909) 878-5200.