Tunnel to Ontario International Airport Virtual Public Meeting
August 8, 2022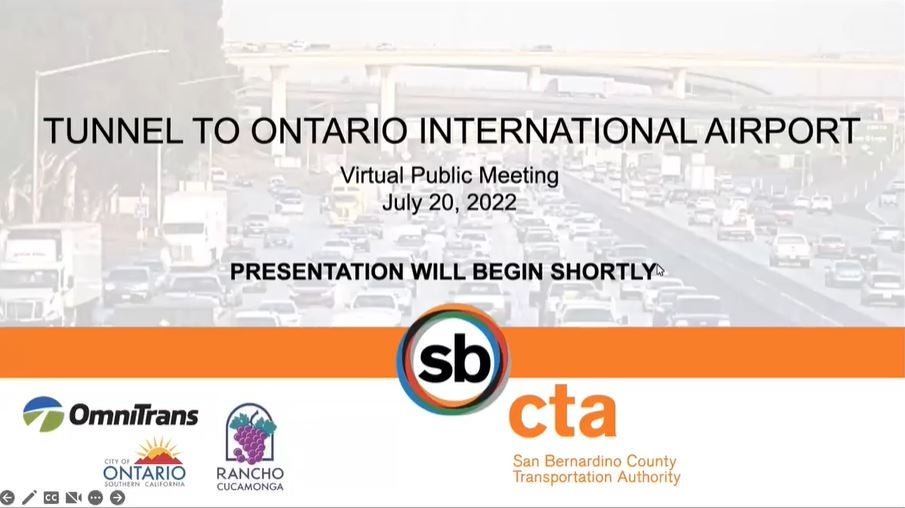 Last month, SBCTA hosted a virtual public meeting for the Tunnel to Ontario International Airport Project.
This project is exploring a subsurface transit connection between the Cucamonga Metrolink Station and Ontario International Airport. Proposed to be operated and maintained by Omnitrans, the project will feature a bi-directional system where passengers traveling to and from Ontario International Airport will be transported in autonomous, zero-emission vehicles on an "on-demand" basis.
During the virtual public meeting, the project team provided a project overview, a summary of the environmental process, answered questions from participants, and instructed the public on how to submit official comments to assist in the Environmental Scoping process. Participants were very engaged during the meeting, asking a variety of questions to SBCTA staff regarding the project timeline, project feasibility, and safety measures being considered during construction.
All comments received during the scoping period (July 5 – August 5, 2022) will be considered by SBCTA, compiled in a scoping report, and appended to the Draft EIR. After preparation of the Draft EIR, it will be released for public review and comment in 2023.
SBCTA encourages the public to submit questions about the project and environmental process by emailing info@goSBCTA.com. Additional project information as well as the recording of the virtual public meeting, are available at goSBCTA.com/Tunnel.