Upcoming Closures – Know Before You Go!
September 7, 2021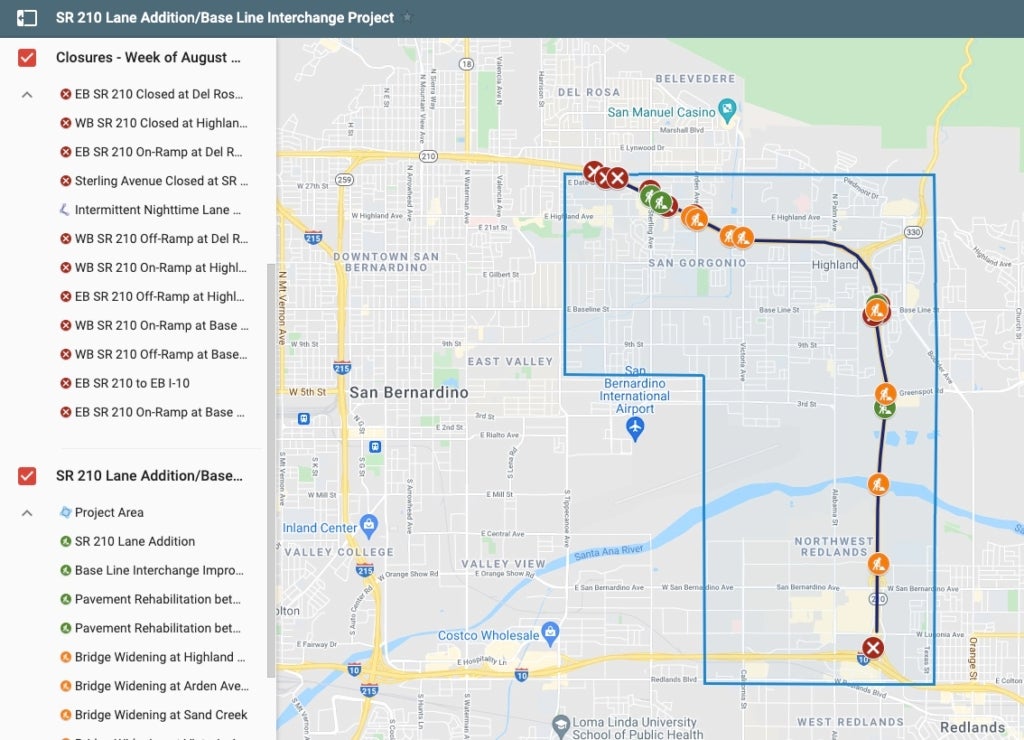 Summer break is over; school is back in session and construction is in full swing on projects within the county.
With this work comes freeway and local street closures to ensure crews have a safe work environment. Access to closures and detours for all projects can be found at goSBCTA.com/projects. Each project has its own interactive Google Map showcasing real-time closures, detours, and updates for that specific project. You can also sign up to receive project-specific construction alerts via email.
What is coming up on the I-10 Express Lanes project?
Crews are working throughout the ten-mile corridor on demolition and reconstruction of retaining walls and sound walls, utility relocation, and freeway and bridge widening's. In September, several on- and off-ramps are scheduled to close for ten days, and freeway lanes and connectors are scheduled to close for 55-hours. Full freeway closures are scheduled to occur at the end of the month and in October as crews demolish the 6th Street and Campus Avenue bridges over the I-10.
What is coming up on the SR-210 Lane Addition/Baseline Interchange project?
Crews are working on several sound walls and retaining walls along the EB and WB SR-210. Work is ongoing at Highland Avenue and Arden Avenue as crews perform concrete pours for the surface of the new bridge. Next week, the EB SR-210 on-ramp at Base Line will close for 55-hours (from 10:00 p.m. Friday, September 10 to 5:00 a.m. Monday, September 13). Closures of EB and WB SR-210 and local city streets are needed to facilitate upcoming bridgework and are scheduled to occur throughout the month of September. Drivers will notice a change to their commute later this fall, once traffic is switched to the newly paved center lanes of the freeway, allowing crews to finish paving work on the shoulders of EB and WB SR-210 to accommodate new lanes.
Follow these three easy steps to navigate road closures and ace your commute this fall:
Allow extra time to reach your destination.
Bookmark SBCTA's project-specific Google Maps on your computer or smartphone (goSBCTA.com/projects).
Sign up for construction alerts to plan ahead and use alternate routes (goSBCTA.com/signup)