Victor Valley Transit Authority Offering Vaccine Express Service
March 8, 2021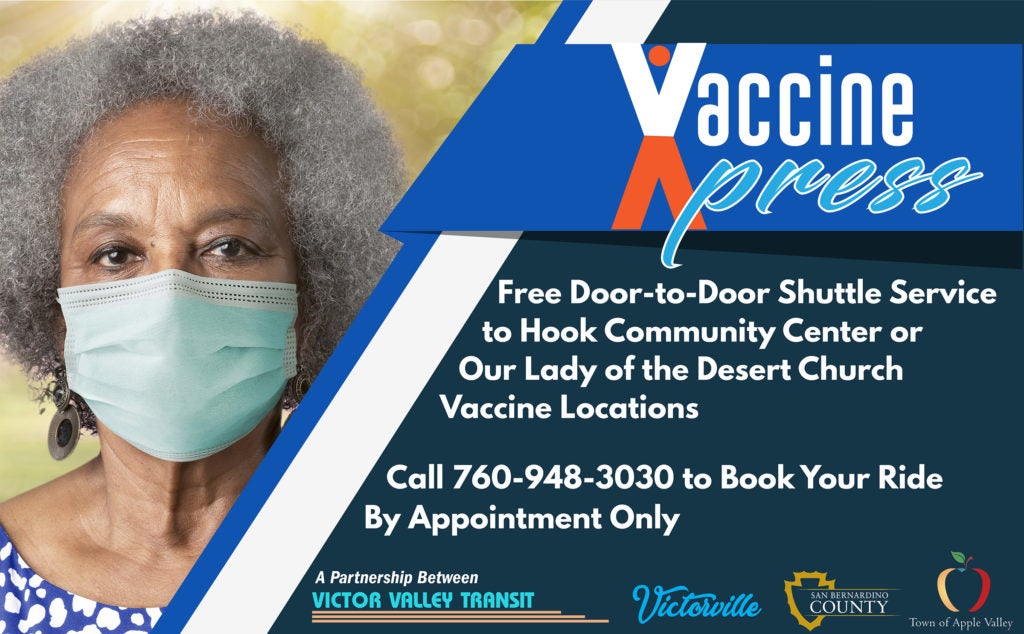 Victor Valley Transit Authority has partnered with the Town of Apple Valley, City of Victorville, and San Bernardino County to provide a temporary free door-to-door shuttle service called the Vaccine Xpress. This interim route is for individuals 65 and older with vaccine appointments at the Hook Community Center or Our Lady of the Desert Catholic Church in the Town of Apple Valley. The Vaccine Xpress is available to all of VVTA's current service areas.
"VVTA is proud and honored to be able to respond on such short notice to meet the public's need for transportation to and from their vaccine appointment," stated VVTA Executive Director Kevin Kane. "We wish everyone to be healthy and safe."
VVTA's Board Member, Liz Beccera, expressed, "As a Council member for the City of Victorville and a VVTA Board Member, it's with great pride that I am a part of an extraordinary team that cares and serves for our High Desert residents. Victor Valley Transit continues to commit to helping our community while their employees work safely and tirelessly, and we encourage everyone to take advantage of the complimentary Vaccine Xpress shuttle."
Interested and qualifying residents must first book a vaccine appointment with the Hook Community Center or Our Lady of the Desert Catholic Church at sbcovid19.com/vaccine/locations. Following the vaccine appointment booking, residents then contact VVTA at (760) 948-3030 and inform the scheduler that they would like to schedule a ride for the Vaccine Xpress. This service will be available Monday through Saturday from 9:00 am to 6:00 pm. Participating residents will be picked up and dropped off from their homes to and from their vaccine appointment.
"VVTA has always quickly adapted to the High Desert needs, and getting our neighbors to this life-saving vaccine is no exception. The quicker we get the vaccine, the faster we can get back to normal," shared Curt Emick, VVTA Board Chair and Mayor of the Town of Apple Valley. "Being a pharmacist and on the Town Council of Apple Valley, health and safety is a high priority. I am grateful to VVTA and its employees for their dedication during these trying times. They continue to keep our riders safe while providing a critical service."
All residents are encouraged to use the Vaccine Xpress shuttle service to their appointments to ease traffic around vaccine location sites. Vaccine Xpress buses are cleaned and sanitized daily, and face coverings are mandatory on all trips.