Celebrating the Beginning: West Valley Connector Project Groundbreaking Ceremony
November 6, 2023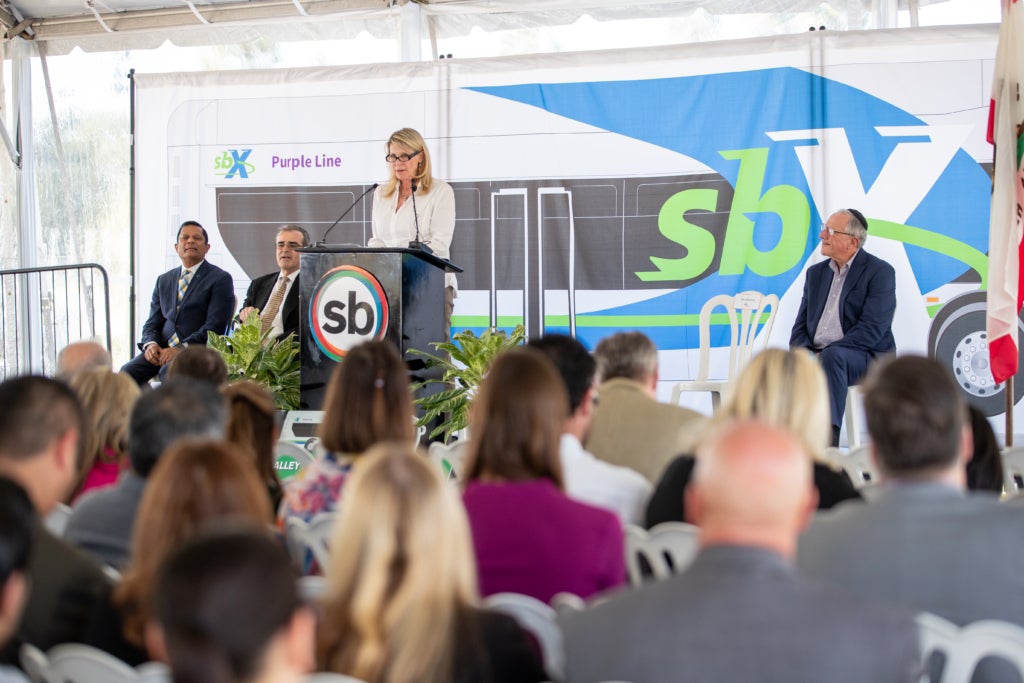 On Thursday, October 12, SBCTA in partnership with Omnitrans, marked the start of construction on the West Valley Connector (WVC) Project with a groundbreaking ceremony in the City of Ontario. The momentous event took place along what will soon be a 19-mile, 100% zero-emission Bus Rapid Transit (BRT) route traversing the cities of Pomona, Montclair, Ontario, and Rancho Cucamonga.
More than 150 people attended the event, celebrating the start of a critical piece in San Bernardino County's emergence as a modern, sustainable transit hub. Not only providing local connectivity, but also connecting the region on a larger scale to Los Angeles and Riverside counties.
The project has been enthusiastically supported by state and federal partners, who are contributing the bulk of the project's $266 million cost. But a significant amount too — $58 million – is being funded through Measure I, the half-cent sales tax for transportation improvement.
Construction is anticipated to begin in December 2023, starting with the 3.5 miles of center-running BRT lanes in the City of Ontario. Construction on the new stations in the cities of Pomona, Montclair, and Rancho Cucamonga will start in 2025. The entire WVC Project is anticipated to be completed in Spring 2026, with Omnitrans' sbX BRT service on the new route to start shortly thereafter.
The new BRT route is the first stage of the San Bernardino County Zero-Emission Bus Initiative and the second BRT route in San Bernardino County. There will be 21 new stations along the 19-mile route that will provide a much-improved transit connection to Ontario International Airport (ONT). The project will help build transit connectivity by linking ONT, two Metrolink lines (San Bernardino and Riverside), and multiple major activity centers including Ontario Mills and Victoria Gardens.
With the project soon entering its first month of construction, the impact of these enhancements will be far-reaching, with local and regional benefits. The improvements not only enhance the quality of transit but also connection, ensuring smoother, safer and quicker journeys for all.
For more information about this project and to sign up to receive weekly construction alerts, please visit goSBCTA.com/WestValleyConnector.