Measure Impact: SR 210 Lane Addition / Base Line Interchange Project
February 8, 2023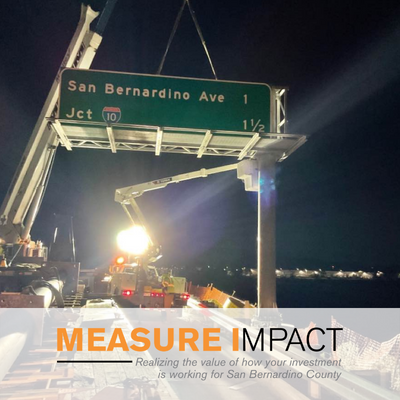 When construction began on the SR 210 Lane Addition/Base Line Interchange Project in February 2020, in the cities of San Bernardino, Highland, Redlands, and parts of unincorporated San Bernardino County, it was hailed as a milestone for improving connectivity across one of the fastest-growing population and economic centers in California. With its summer 2023 completion date nearing, the project is about to deliver on that promise for one of the fastest growing regions in the United States.
According to Census data, the Inland Empire ranked fifth in the U.S. in total population growth over the past year, with much of that concentrated in San Bernardino County's East and West Valleys. With the SR 210 freeway connecting both of those busy markets, there was little tolerance for the kind of bottleneck that often brought traffic to a halt at the Base Line Interchange in Highland.
Thanks to Measure I – the voter approved half-cent sales tax – significant improvements to both the freeway and the interchange itself are taking shape. The measure provided $118.3 million in funding, with another $13.3 million coming from the City of Highland and $67.1 million from the state.
The project will add one mixed-flow lane in each direction between Highland and San Bernardino Avenue, merge lanes between Base Line and 5th Street, and an acceleration lane at the 5th Street eastbound on-ramp. Pavement improvements on existing lanes of the SR 210 are also being made.
This section of the SR 210 connects San Bernardino, Highland and Redlands and is a vital transportation corridor for the region. Heavy concentrations of housing and retail along the SR 210, along with significant traffic in both directions, have created significant bottlenecks at critical times during the day.
For more information about the upcoming series of six 55-hour directional freeway closures on SR 210, visit goSBCTA.com/SR210BaseLine.
For more on Measure I, please click here.