Mt. Vernon Avenue Bridge – Project Schedule Update
December 12, 2022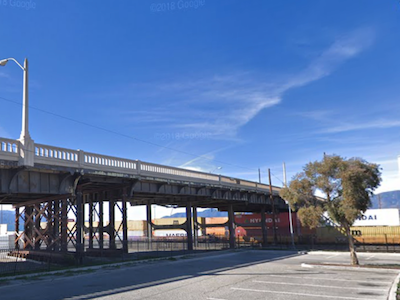 The Mt. Vernon Avenue Bridge (MVAB) project is a complex bridge replacement project that spans over one of the largest rail yards in the region. An iconic structure in San Bernardino, the Mt. Vernon Avenue Bridge connected communities on the west side of San Bernardino for 86 years, serving as a vital link for residents, visitors, students, and businesses.
Given that the bridge was rated as severely deficient, public safety reasons strongly encouraged that the deconstruction effort commence as soon as possible while the Design/Build team finalized other critical path items toward reconstruction. Accordingly, the bridge closed to the public in December 2020 and disassembly was completed in April 2021. In fact, a recent article regarding bridge construction, published in The Sun on December 6, 2022, offered a fairly detailed understanding of the early project schedule.
Nonetheless, following disassembly of the bridge, operators of the rail yard, Burlington Northern Santa Fe (BNSF) Railroad, needed to perform work to realign some of the rail lines in order to maintain operations during the reconstruction. As a result, the project was staged so that bridge work would be suspended during the BNSF operation. The original schedule made some assumptions on indeterminate items like utilities, property acquisition, and other right of way issues. Unfortunately, those areas took longer than anticipated and BNSF was delayed in commencing their work until they were resolved.
Going forward, BNSF assures SBCTA that their work will be complete in 2023 and bridge reconstruction can resume immediately thereafter. In addition, coordination is taking place to see where there are opportunities to concurrently perform some of the tasks outside of the railyard, to make up for time lost and identify opportunities to advance the schedule wherever possible. As these time saving opportunities are identified, additional updates will be provided.
SBCTA and the project contractor, Traylor Granite Joint Venture (TGJV), are working diligently to reconstruct the Mt. Vernon Avenue Bridge and reconnect the southern and northern sections of West San Bernardino as soon as possible. We remain optimistic that the project will be completed by the end of 2024, however, production rates and other time-related elements of the construction process may shift completion to early-2025.
To learn more about the Mt. Vernon Avenue Bridge business brochure or the complimentary bus service provided by SBCTA and Omnitrans during construction, visit goSBCTA.com/mtvernonbridge or call 877-55-SBCTA.