Since opening to the public in 1934, the Mt. Vernon Avenue Bridge has been an iconic structure, bridging San Bernardino communities to the north and south and serving as a vital link for residents, visitors, students and businesses. The community, like the bridge, has seen a great deal of change over the past 86 years.
To ensure the safety and longevity of the bridge, the City of San Bernardino and the California Department of Transportation (Caltrans) partnered with the San Bernardino County Transportation Authority (SBCTA) to rebuild the bridge. The bridge closed to the public in December 2020 and disassembly was completed in April 2021. Reconstruction of the new bridge is anticipated to begin in late 2023 and the new structure is anticipated to open in 2025. Click here to review the latest schedule update.
Fact Sheets
Contracting Opportunities
For more information about contracting opportunities for the MVAB project, visit the contractor's project website: tgjvmv.com.
Pedestrian Detour
To support pedestrians, bicyclists, and the disabled, with a convenient detour option while the bridge is closed, SBCTA has partnered with Omnitrans to offer a complimentary bus service. To access the complimentary bus service:
Step 1: CHOOSE where to begin your trip – at the north end of the bridge, go to the bus stop at 5th Street/Mount Vernon Avenue (Route 3/4 or Route 14); from the south end of the bridge, go to the bus stop at 2nd Street/Metrolink Way (Route 1).
Step 2: SAY "Bridge Detour" to the bus driver when you board for the complimentary fare.
Step 3: TRANSFER at the Transit Center and continue to Route 1 (exit at 2nd Street/Metrolink Way) or Route 3/4 and Route 14 (exit at 5th Street/ Mount Vernon Avenue) to reach the other side of the bridge.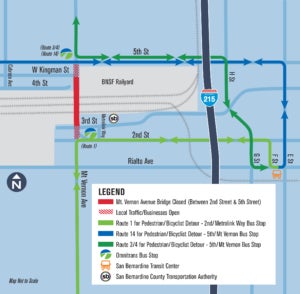 Motorist Detour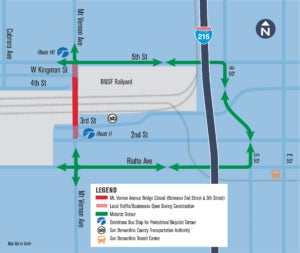 Shop Local and Support The Businesses That Support Your Community
Until the new bridge opens, we encourage the community to shop local and support the businesses that support your community. When you shop local your tax dollars stay local as well, helping to support the local economy and boost tax revenue within the community.
To launch the "shop local" message, SBCTA created a bilingual (English and Spanish) brochure highlighting local businesses north and south of the former bridge. The brochure was recently distributed door-to-door to 7,000 residents and businesses in the local community and included a directory of more than 50 local businesses, as well as important updates on the status of project construction. The companion piece to the brochure is the interactive project Google Map. In addition to featuring the local businesses, the interactive map also allows businesses the opportunity to promote upcoming deals and specials, highlight services they offer, and more. If you are a business owner and wish to add your business or a special promotion to the interactive map, please contact us at 877-55-SBCTA.