Since opening to the public in 1934, the Mount Vernon Avenue Bridge has been an iconic structure, bridging San Bernardino communities to the north and south and serving as a vital link for residents, visitors, students and businesses. The community, like the bridge, has seen a great deal of change over the past 85 years. Today the bridge is showing its age and is in need of desperate improvement. In the past 15 years, the bridge has been closed to traffic twice for critical repairs and has had temporary supports installed at different locations beginning in 2004. And, although it remained open to passenger cars and people walking and biking across the bridge, buses and trailer trucks are no longer permitted to use it.
To ensure the safety and longevity of the bridge, the City of San Bernardino (City) and the California Department of Transportation (Caltrans) have partnered with the San Bernardino County Transportation Authority (SBCTA) to rebuild the bridge. The bridge will be disassembled and completely rebuilt – a process that will span approximately three years. The bridge closed to all traffic (pedestrian, bicycle, and vehicular) between 2nd Street and 5th Street, on Tuesday, December 29, 2020. Crews will now begin the careful work of disassembling the bridge over a period of a few months. Improvements at the south end of the bridge will include retaining walls along both sides with 3rd Street closed during construction but opened to traffic permanently after construction is complete. On the north side retaining walls will also be constructed along both sides of the transition between the bridge and W. Kingman Street. Where Mount Vernon Avenue reconnects to W. 2nd Street and W. Kingman Street new curbs and gutters will be installed. Reconstruction of the new bridge will begin in 2022 and the new structure is anticipated to open in 2024.
Fact Sheets
Contracting Opportunities
For more information about contracting opportunities for the MVAB project, visit the contractor's project website: tgjvmv.com.
Pedestrian Detour
To support pedestrians, bicyclists, and the disabled, with a convenient detour option while the bridge is closed, SBCTA has partnered with Omnitrans to offer a complimentary bus service. To access the complimentary bus service:
Step 1: CHOOSE where to begin your trip – at the north end of the bridge, go to the bus stop at 5th Street/Mount Vernon Avenue (Route 3/4 or Route 14); from the south end of the bridge, go to the bus stop at 2nd Street/Metrolink Way (Route 1).
Step 2: SAY "Bridge Detour" to the bus driver when you board for the complimentary fare.
Step 3: TRANSFER at the Transit Center and continue to Route 1 (exit at 2nd Street/Metrolink Way) or Route 3/4 and Route 14 (exit at 5th Street/ Mount Vernon Avenue) to reach the other side of the bridge.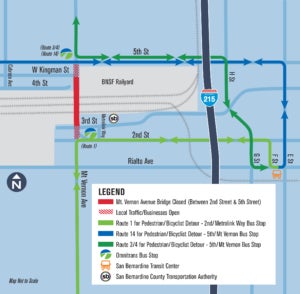 Motorist Detour