NEW DATE! SR 210 Drivers: Lookout for New Temporary Traffic Pattern
January 31, 2022
If you've traveled SR 210 in the cities of San Bernardino, Highland and Redlands over the past year, you've seen crews hard at work widening the freeway as well as the Base Line bridge over SR 210 to increase traffic flow and eliminate the bottlenecks throughout the corridor.
Now scheduled for Friday, February 4, a new temporary lane configuration will go into effect in the eastbound lanes of SR 210.
This temporary traffic pattern, located between Base Line and San Bernardino Avenue, will shift traffic on eastbound SR 210 to the other side of the center median for 2.5 miles, allowing crews to begin pavement rehabilitation activities on the existing eastbound roadway. This configuration will be in place for approximately five months.
As shown in the diagram below:
Drivers in the crossover lane (also known as the #1 lane), will not be able to exit at 5th Street/Greenspot Road or San Bernardino Avenue.
Drivers in the #2 lane will still be able to access both 5th Street/Greenspot Road and San Bernardino Avenue exits.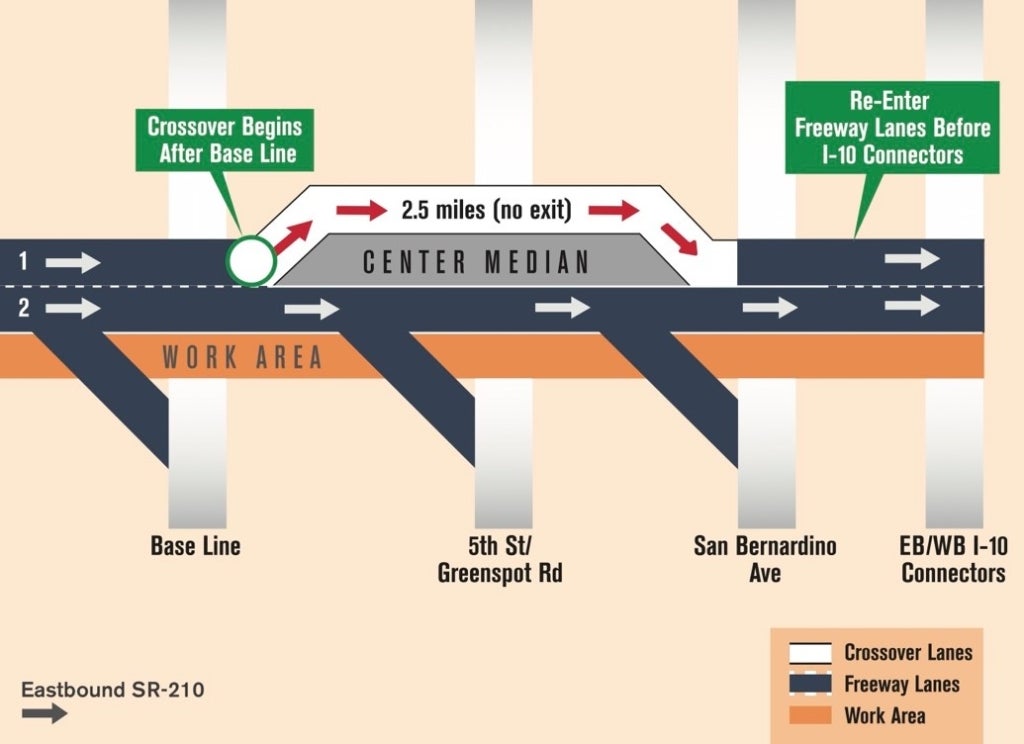 Before the eastbound crossover is implemented, access to San Bernardino Avenue on the westbound SR 210 will be restored for motorists coming from the eastbound I-10 connector. There will be no changes to the traffic pattern on WB SR 210 between Base Line and San Bernardino Avenue at this time.
This temporary traffic configuration creates a safe workspace to allow crews to perform pavement rehabilitation on the existing eastbound lanes. Once work on the eastbound lanes are complete, crews will begin work on the westbound side of the freeway and lanes will be placed into a similar configuration in the opposite direction.
SBCTA and Caltrans are widening SR 210 from Sterling Avenue to San Bernardino Avenue to eliminate the existing bottleneck and provide lane continuity for drivers. Base Line Interchange is also being widened from Buckeye Street to Seine Avenue in the City of Highland, which includes widening three of the four interchange ramps. The SR 210 Lane Addition and Base Line Interchange Project is expected to be complete in 2023. Visit goSBCTA.com/SR210BaseLine for additional project information and to sign up for construction alerts.