San Bernardino Valley Coordinated Traffic Signal System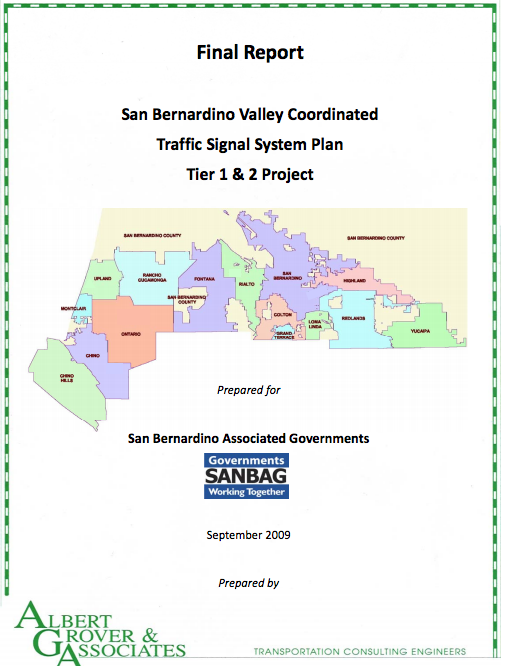 San Bernardino Valley Coordinated Traffic Signal System (SBVCTSS)
In September 1999, the SANBAG Board of Directors authorized the development of a strategic plan for interconnecting and coordinating traffic signals in the San Bernardino valley area across jurisdictional boundaries. Study participants included the cities of Chino, Chino Hills, Colton, Fontana, Grand Terrace, Highland, Loma Linda, Montclair, Ontario, Rancho Cucamonga, Redlands, Rialto, San Bernardino, Upland and Yucaipa; San Bernardino County; Caltrans District 8; and SBCTA. The SBVCTSS Master Plan was developed in 2000 and recommended coordination for approximately 1,000 signals. As further studies were conducted to develop a strategic plan for implementation, more signals were incorporated into the strategic plan for interconnecting and coordinating signals throughout the valley with ultimately over 1,200 signals identified and approved for implementation.
An investment of $15 million resulted in the implementation of signal coordination throughout the San Bernardino valley through a tiered approach. Tier 1 and 2 were implemented between 2006-2009 and Tier 3 and 4 were implemented between 2011 and 2014.
Tier 1 and Tier 2
Tier 1 and Tier coordinated 652 signalized intersections (including 48 Caltrans intersections) throughout the valley with the goal of reducing travel times and number of stops, increasing average speeds while also providing enhanced access to freeway interchanges. Upon implementation, immediate benefits were realized. System-wide improvements included a 22% reduction in travel time, 47% reduction in number of stops and 27% improvement in travel speed during the morning and evening peak periods. Overall mobile source emission reductions were estimated at 15% with fuel consumption reductions estimated at 12%.
Tier 3 and 4
Tier 3 and Tier 4 developed and implemented signal coordination plans for 691 signals throughout the valley. Compared to Tier 1/2, the Tier 3/4 implementation resulted in a 15% travel time reduction, 36% delay reduction, 35% stops reduction and 19% average speed increase. These results translated into a fuel savings of 2,467,157 gallons after the first year of implementation with a corresponding reduction in Green House Gases (GHG) and other pollutants emission of 6,950 tons. Resultant travel time savings was estimated at 1,271,060 with a monetary savings during the first year of implementation of $25,441,645 due to emissions reduction, fuel savings and travel time reductions.
SBVCTSS – Next Generation with South Coast Air Quality Management District Funding
In early 2016 the South Coast Air Quality Management District provided up to $1,000,000 in Clean Transportation Funding Transportation Control Measure CTC Partnership Program funds through the Mobile Source Air Pollution Reduction Review Committee to update and improve the existing SBVCTSS. The scope of the update included the following specific tasks:
Conduct semi-annual system assessments
Troubleshoot current SBVCTSS
Identify Corridor Priority List for focused funding
Collect existing data
Develop updated coordinated timing plans
Implement updated coordinated timing plans
Prepare before/after study
This partnership with the South Coast Air Quality Management District will ensure that benefits continue to accrue to the traveling public throughout the valley as the system is improved and expanded as growth occurs.