Public Comment Period Open & Virtual Public Meeting Planned for I-10 Eastbound (EB) Truck Climbing Lane (TCL) Project
July 6, 2020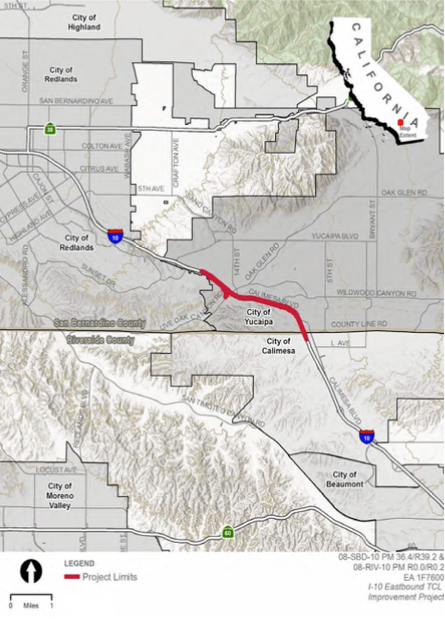 SBCTA, together with the California Department of Transportation (Caltrans), is proposing to extend a three-mile portion of the eastbound (EB) truck climbing lane on Interstate 10 (I-10), through the City of Yucaipa to just east of the Riverside County line, in the City of Calimesa. The proposed extension of the TCL along EB I-10, between the Live Oak Canyon Road off-ramp and the County Line Road off-ramp, would improve operations by separating trucks and other slow-moving traffic from passenger vehicles. After rigorous study, Caltrans determined the proposed improvements would not have significant environmental impacts. Marking a major milestone in the project lifecycle, Caltrans has issued a Proposed Mitigated Negative Declaration and Initial Study/Environmental Assessment, which is now available for public review and comment (gosbcta.com/i10truckclimbing).
In response to the COVID-19 pandemic and in light of social distancing guidelines issued by the Governor, SBCTA and Caltrans explored new and innovative ways to make the results of the environmental study available to the public for review and comment. Along with the traditional notification methods (newspaper ads, direct mail, and hard copies of the document available for review), SBCTA and Caltrans will also offer a virtual presentation and live Q&A on Zoom, allowing the public an opportunity to learn more about the project from the comfort of their homes, via their computer, smart device or over the phone. An added benefit of the virtual presentation is the ability to record the presentation and make it available for folks who might not be able to participate live but are still interested to learn about the proposed improvements.
The draft environmental document (DED) is being circulated for thirty (30) calendar days to allow government agencies, the public, and all stakeholders to provide comments on the draft environmental document and to the Project in general. The 30-day public circulation period commenced on Friday, July 3, 2020 and will conclude on Monday, August 10, 2020. Formal comments on the project may be submitted via email to D8.1F760.Comments@dot.ca.gov with the subject line "Comments on I-10 EB TCL IS(MND)/EA – (EA 1F7600)" or mailed in writing to:
Antonia Toledo, Senior Environmental Planner
California Department of Transportation, District 8
Environmental Studies Branch D
464 West Fourth Street, 6th Floor, MS 820
San Bernardino, California 92401-1400
The public is encouraged to join SBCTA and Caltrans for the live virtual presentation on Wednesday, July 15 from 6:00 to 7:00 p.m. For more information, including detailed instructions on how to access the virtual meeting, please visit the Project website, gosbcta.com/i10truckclimbing. Presentation materials will also be made available for download for those unable to join the live meeting.