SR 210 Lane Addition and Base Line Interchange Project – EB SR 210 Temporary Crossover Lane
January 10, 2022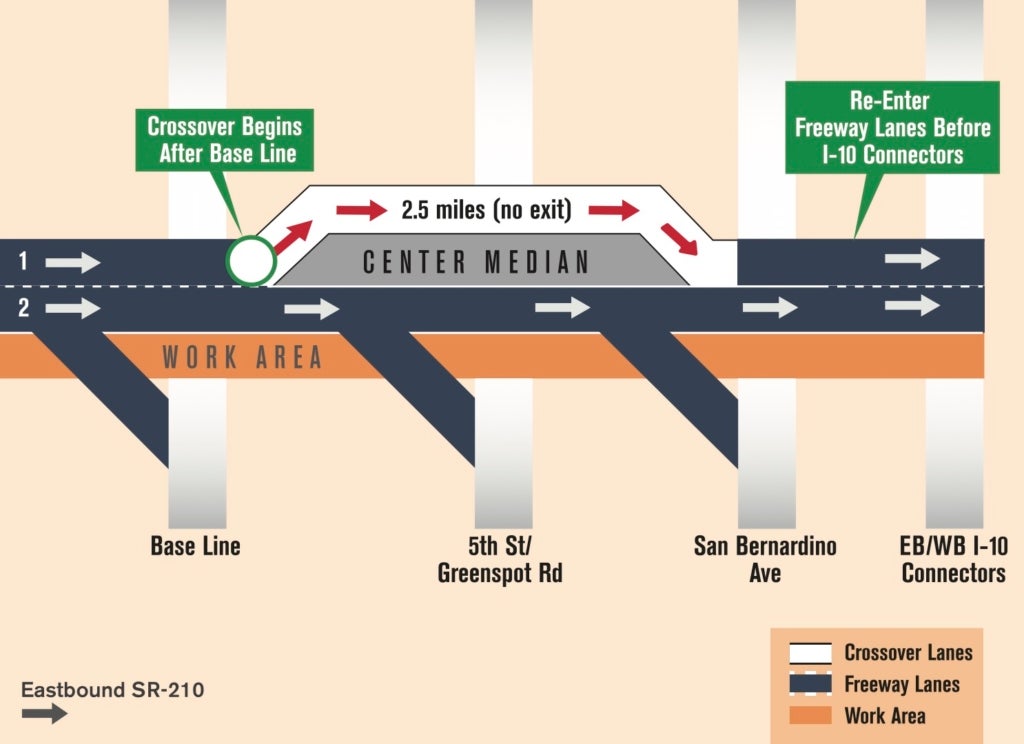 Starting as early as January 20, 2022, crews will construct a 2.5-mile temporary crossover lane on EB SR 210 between Base Line and San Bernardino Avenue. This is necessary for crews to shift traffic to the other side of the center median to begin pavement rehabilitation activities on the existing EB roadway.
In this configuration, the #1 EB lane will crossover to WB lanes just after Base Line and cross back over to the EB freeway after the San Bernardino Avenue on-ramp. The crossover lane will be separated from regular traffic by concrete barriers. Drivers who are in the crossover lane (#1 lane), will not be able to exit at 5th Street/Greenspot Road or San Bernardino Avenue. The EB crossover lane will be in place for approximately five months.
Drivers in the right lane (#2 lane) will have access to both 5th Street/Greenspot Road and San Bernardino Avenue exits. For your safety and the safety of our crews, please obey posted speed limits while traveling through the project corridor.
For more information on the project, visit gosbcta.com/SR210Baseline.