West Valley Connector Update
June 7, 2021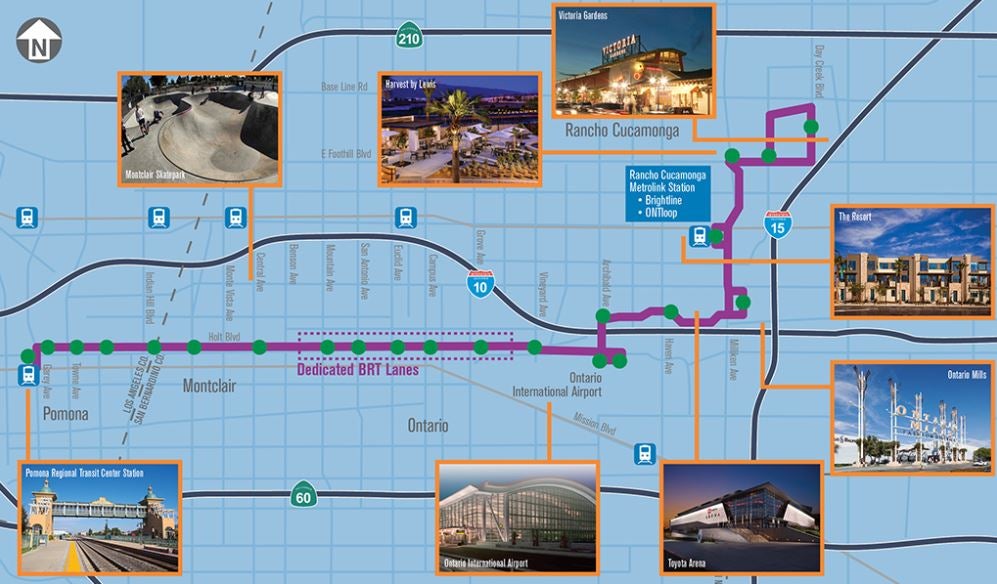 As a county focused on smart, clean, efficient, and effective ways for moving people, projects like West Valley Connector (WVC) demonstrate SBCTA's investment in the county's sustainable future. The 19-mile Bus Rapid Transit (BRT) system is a key element of an emerging state-of-the-art transit network between San Bernardino and Los Angeles counties.
As a 100% zero-emission BRT system, Phase I of the project is 19 miles and will upgrade a portion of existing Route 61, which runs along Holt Boulevard, adding approximately 3.5 miles as center-running, dedicated bus-only lanes. There will be 21 stations in Phase 1 that will provide a much-improved transit connection to Ontario International Airport (ONT) and help build transit connectivity by linking ONT, two Metrolink lines (San Bernardino and Riverside), and multiple major activity centers along the route including the Ontario Convention Center, Ontario Mills and Victoria Gardens.
Earlier this year, the Federal Transit Administration (FTA) allocated $86.75 million in funding to the project, which will cover one-third of the estimated project cost. Late last year, the California Transportation Commission (CTC) allocated nearly $300 million in SB 1 grants to San Bernardino County, which included $65 million for WVC.
Today, the project is in the design phase, meaning that our team continues to design the project and is working to narrow the property needs along the 19-mile corridor. SBCTA anticipates that final design will be completed in 2021 and construction will start in mid-2022. To learn more about West Valley Connector and how it will improve accessibility throughout one of the most congested corridors in San Bernardino County, visit goSBCTA.com/westvalleyconnector.