Inland Empire to Grow Twice as Fast as Rest of Southern California in the Next 25 years
March 3, 2023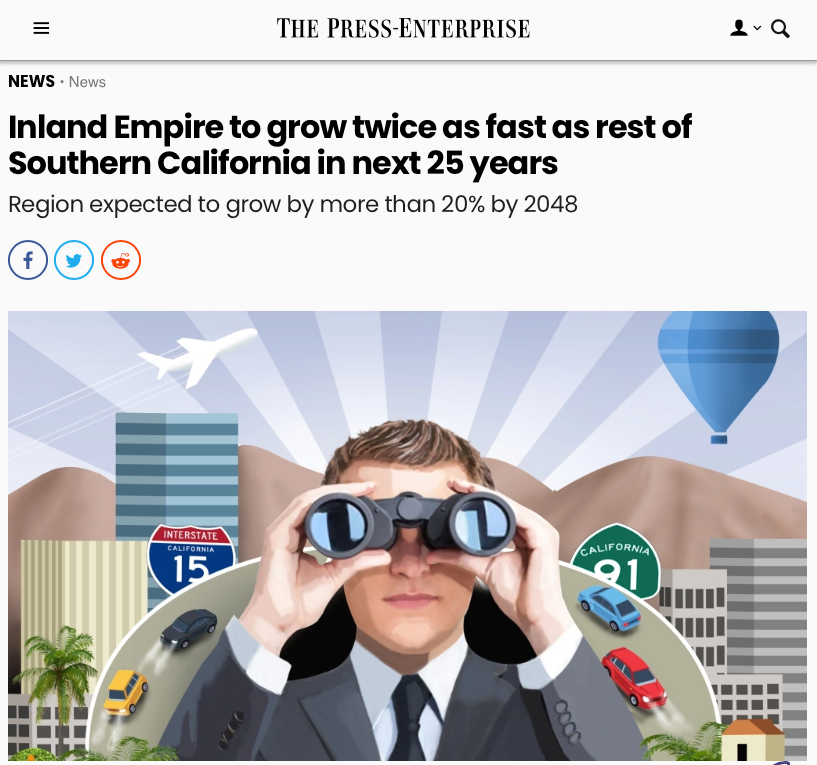 The San Bernardino County Transportation Authority (SBCTA) continues its mission to plan toward a brighter future for the county's nearly 2.2 million residents; and build to meet the growing news of the nation's largest county – all to ensure communities are connected and people are moving.
A recent article in the Press Enterprise titled "Inland Empire to grow twice as fast as rest of Southern California in next 25 years" reinforces the need for regional transportation planning and furthering an efficient multimodal system for San Bernardino County residents and visitors.
Projects like the I-10/Cedar Avenue Interchange and North First Avenue Bridge Replacement are underway with construction to improve travel and enhance safety and projects like the West Valley Connector and Tunnel to Ontario International Airport continue to meet critical environmental and design milestones, keeping SBCTA focused on smart, clean, efficient and effective ways to move people while also reducing greenhouse gas emissions.
Led by SBCTA's Board, SBCTA continues to make progress on important freeway and transit projects, while embracing emerging technology and envisioning a future of innovation to ensure the county's transportation options are successful and sustainable. SBCTA has a lot to celebrate from its past 50 years of achievements that span the county's eastern, western and mountain desert regions and we are committed to shaping a resilient future for generations to come.