Project Overview
SBCTA's Interstate 10 Corridor Project is comprised of three phases of improvements to benefit the movement of both people and goods on this facility that is important to both San Bernardino County residents and to the local and national economy. The first phase, stretching 10 miles from the Los Angeles County line to I-15, is currently under construction. The second phase, stretching 11.1 miles from I-15 to Pepper Avenue in Colton, is in design and the final funding components are being sought to enable construction to begin in 2024. The third and final future phase of 12 miles will be from Pepper Avenue to Ford Street in Redlands.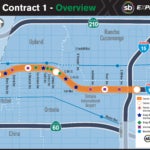 For the Phase 1 project, a single new lane is being constructed and combined with the existing HOV lane to provide two tolled express lanes in each direction. The lanes will be available to HOV 3+ vehicles at a discount, In addition, lanes to assist drivers getting on and off the freeway (auxiliary lanes) are being constructed in selected locations.
Phase 1 Fact Sheets 
Phase 1 Bridge Map
Eighteen bridges throughout the corridor will either be replaced, widened, or improved to accommodate the widening of the freeway. Click here Interactive project map to learn more about the bridges.
Phase 1 – ALERTS
Temporary crossover lanes at westbound I-10 approaching Mountain Avenue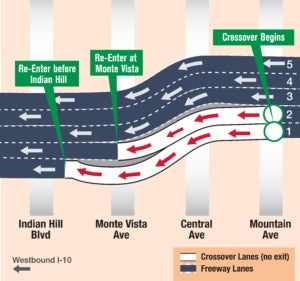 On Tuesday, July 19 the two left lanes of the westbound I-10 approaching Mountain Avenue were shifted towards the center median and entered into a crossover configuration. The two left lanes are separated from existing lanes by barriers and motorists do not have access to off-ramps. The far left lane remains in the crossover configuration until Indian Hill Boulevard with no access to the Central Avenue, Monte Vista Avenue, and Indian Hill Boulevard off-ramps. The second left lane remains in the crossover configuration until Monte Vista Avenue and the Central Avenue and Monte Vista Avenue off-ramps are not accessible. Please use caution when entering and exiting the crossover lanes, watch for merging traffic, and follow posted signage.
Westbound I-10 Access from Euclid Avenue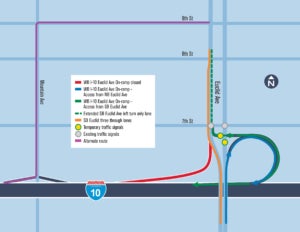 On Sunday, May 22 at 9:00 p.m., the westbound (WB) I-10 on-ramp from southbound (SB) Euclid Avenue closed. Motorists can access the WB I-10 loop on-ramp at Euclid Avenue via a new extended left-turn only lane approaching 8th Street to 7th Street – lanes are shifted to the west to create this new left-turn only lane. Alternatively, motorists can use 9th Street to Mountain Avenue to access the WB I-10 on-ramp at Mountain Avenue. Access to WB I-10 for motorists traveling northbound (NB) on Euclid Avenue will remain the same.
Please note, parking on SB Euclid Avenue from 8th Street to 7th Street will be prohibited. Driveways will remain accessible and there will be no changes to resident mail, deliveries, or trash services.
For more information, watch the Euclid Avenue Webinar – May 11, 2022.
View previous Phase 1 webinars:
December 15, 2021
June 29, 2021
May 27, 2021
April 29, 2021
March 25, 2021
February 18, 2021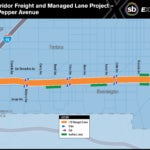 In Phase 2, single toll express lanes will be constructed (where there are currently no HOV lanes). Together, these express/managed lanes will open up a new opportunity to provide travel time incentives to transit, shared-ride vehicles, and zero-emission vehicles. Phase 2 will also construct three strategic eastbound (EB) auxiliary lanes and one westbound (WB) auxiliary lane to improve truck operations and safety, as shown in the graphic. The I-10/I-15 interchange is ranked the 9th most critical truck bottleneck in the U.S. by the American Transportation Research Institute, and these improvements will help to relieve congestion in the vicinity of that interchange.
SB Express Lanes Questions & Answers
The SB Express Lanes will be located in San Bernardino County on I-10 between the Los Angeles/San Bernardino County line and I-15. The Express Lanes will include two tolled lanes in each direction in the median of the freeway, and anyone can choose to use them for a fee once they open in 2023.
Future additions to the tolled network will include SB Express Lanes on I-15 between the Riverside County line and Foothill Boulevard in Rancho Cucamonga.
The SB Express Lanes will relieve congestion throughout the I-10 corridor and provide trip reliability and time savings for those who choose to pay a toll and use the Express Lanes.
Drivers who choose to pay a toll also free up space in the general-purpose lanes, benefiting all people traveling on I-10.
Drivers will be able to enter and exit the SB Express Lanes from multiple points, providing sufficient opportunity to reach various interchanges and destinations along the corridor. Exiting or entering the SB Express Lanes at points other than those indicated on the map below is illegal.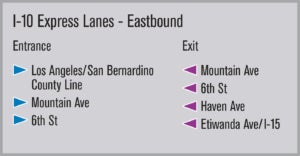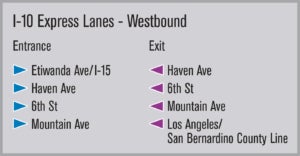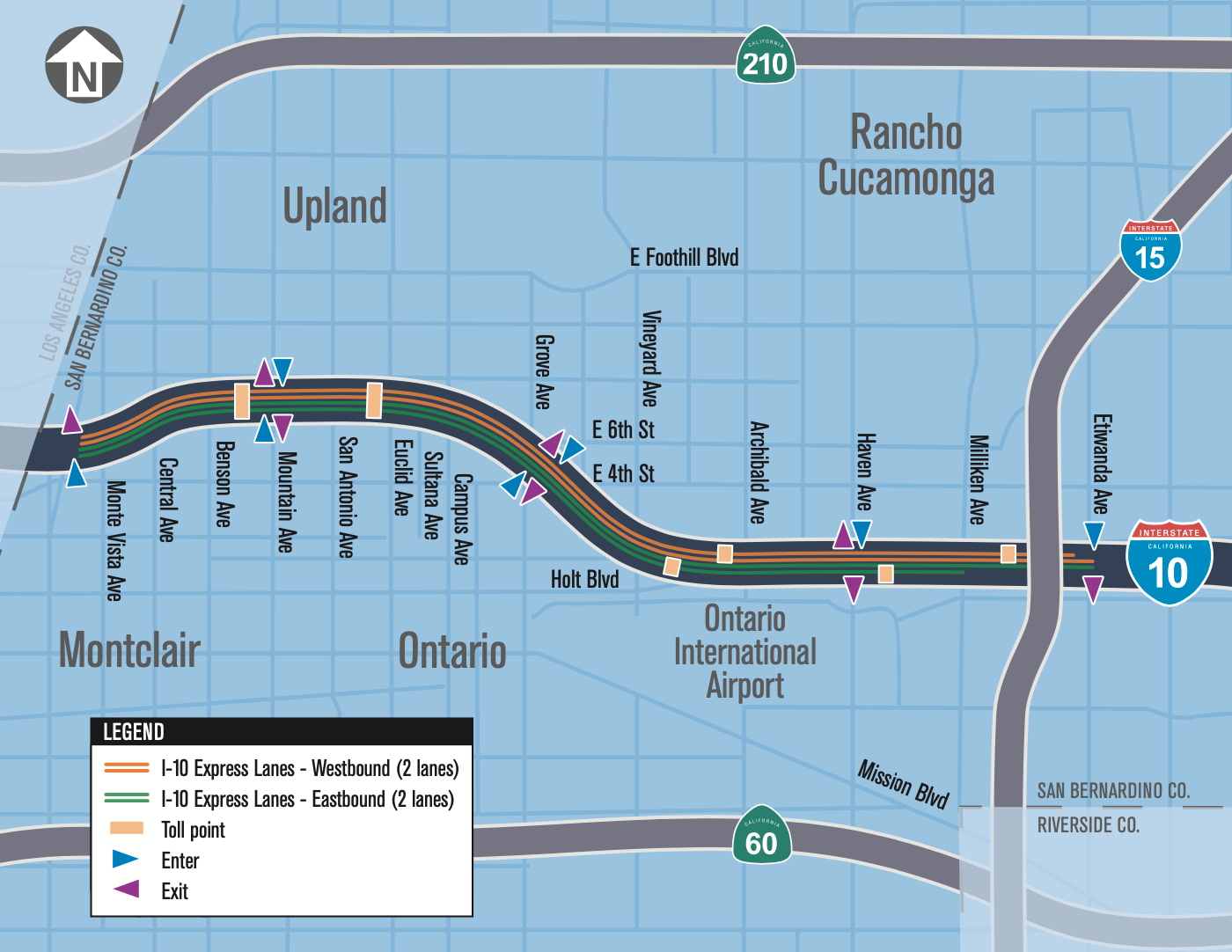 Toll pricing will be dynamic and fluctuate based on traffic levels and demand. Exact pricing will be determined once the SB Express Lanes open in 2023 and will be advertised at each point of entry within the corridor.
Electronic toll collection will be used to collect tolls on the SB Express Lanes. A pre-established FasTrak® account will be required to pay for tolls and receive the lowest toll price. Visitors or infrequent users can alternatively pay for tolls online within five days after their trip using the Pay Online feature.
FasTrak is interoperable throughout the state and can be used on all tolled bridges, lanes and roads in California.
Drivers without a pre-established FasTrak account will be able to pay for tolls online using the Pay Online feature within five days after their trip. Drivers will need to have their vehicle's license plate number to pay for tolls online.
Additional costs will apply when using the SB Express Lanes on I-10 without FasTrak.
The Pay Online feature is only allowed on the SB Express Lanes on I-10 in San Bernardino County and on The Toll Roads of Orange County (State Routes 73, 133, 241 and 261) All other tolled bridges, lanes or roads require FasTrak.
Per the SB Express Lanes Toll Policy, the following discounts will apply:
Vehicles with three or more passengers can use the SB Express Lanes on I-10 without charge at all times. A FasTrak Flex (switchable transponder) is required to identify the number of passengers in a vehicle.
Clean Air Vehicles can use the SB Express Lanes on I-10 and receive a 10 percent discount at all times.
Motorcycles can use the SB Express Lanes without charge at all times.
Carpool vehicles and Clean Air Vehicles must have a FasTrak account to be eligible for SB Express Lanes discounts.
No, large trucks or vehicles towing trailers are not permitted to use the SB Express Lanes on I-10. Only two-axled vehicles are able to use the SB Express Lanes.
Under California law, vehicles towing a trailer and large trucks with more than two axles, may only use the right two lanes of a four-lane limited-access highway such as the I-10 Freeway.
If a toll is not paid with FasTrak or via the Pay Online feature within five days of driving the SB Express Lanes, a notice of toll evasion will be mailed to the registered owner of the vehicle. The notice of toll evasion will identify payment instructions for the toll amount due. The toll must be paid within 30 days to avoid additional fees and penalties.